Maintenance
Enter the world of preventive maintenance
There are two main categories of maintenance: curative maintenance (repairs) and preventive maintenance (maintenance). Yuman helps you with both aspects by adding a complete module to the curative intervention management functions that allows you to organize all your scheduled preventive maintenance operations easily.
According to the European definition (standard NF EN 13306 X 60-319), maintenance is the set of all technical, administrative and management actions during the life cycle of an asset, intended to maintain or restore it to a state in which it can perform the required function.
This can be complicated! That's why we designed Yuman.
Yuman supports you in managing technical assets for which you are responsible, organizing your teams and structuring your maintenance operations, so that you can be sure to provide your customers with the best possible quality of service.
With Yuman you can easily:
Identify and describe the assets for which you are responsible

Categorize your services thanks to maintenance libraries

Manage the maintenance plans of your installations

Know your technical teams' availability and capacity

Generate, plan and assign interventions

Monitor smooth running of operations in real time

Directly build the digital maintenance logbook of the installations

Equipment database
With Yuman, you will now be able to list all the equipment installed at your customers' premises, whether they are under contract or not.
Each piece of equipment is described by a technical data sheet, which can be customized, if needed. This description includes references, brand, model, main and detailed characteristics, associated documentation, photos, digital maintenance logbook, etc. Photos of equipment taken on site by a technician with a smartphone are instantly accessible by the manager via the private cloud. The structure of Yuman allows for an equipment to be linked to a site, a building or another piece of equipment, thus ensuring the management of complex installations when necessary.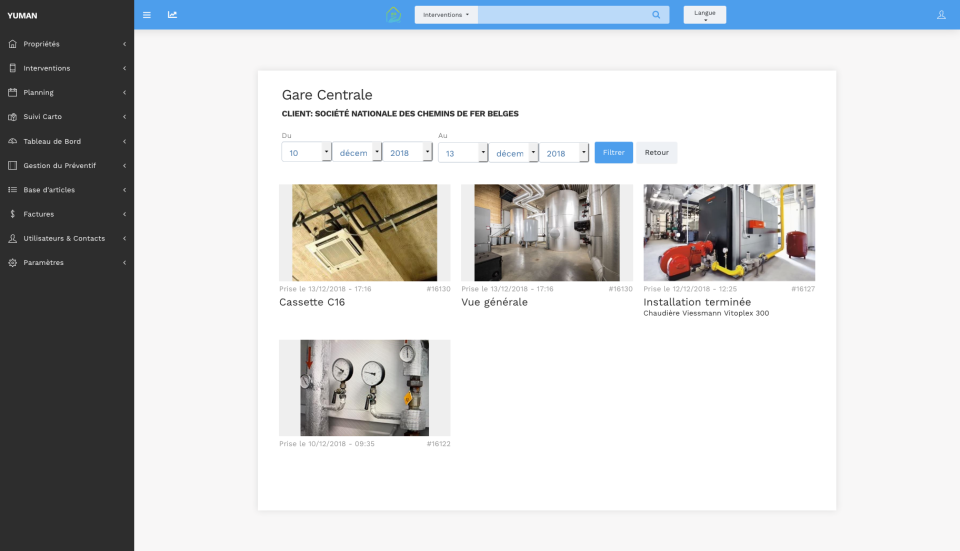 Preventive maintenance plan
Planning preventive maintenance without the help of CMMS software can be a major challenge. The maintenance software allows you to set up maintenance plans: each plan details the technical equipment required, the maintenance operations with details of the associated technical tasks, the frequency of these operations and the time expected to complete each task. Yuman, which holds your catalogue of services, helps you to build, visualize and update these plans. We offer you standard libraries per technical batch that you can use directly or as a starting point, if needed.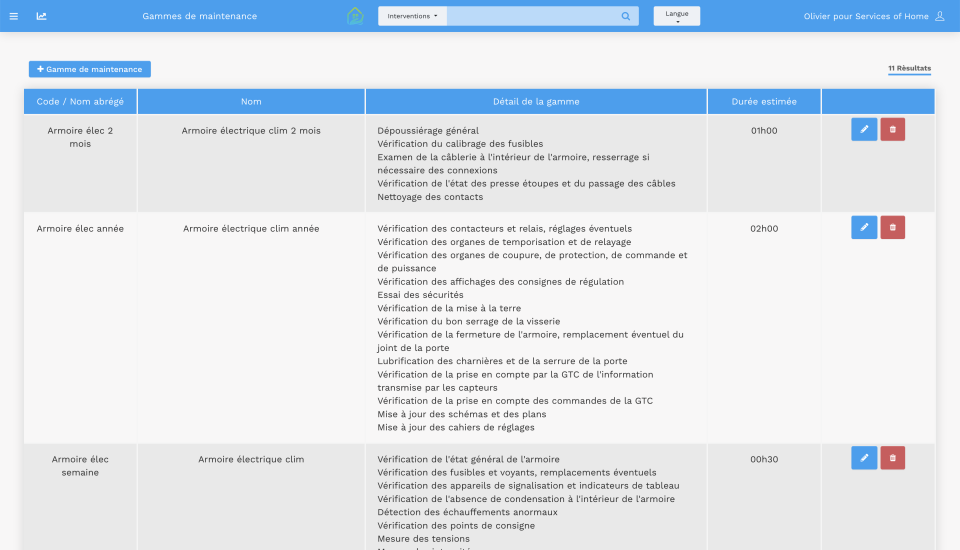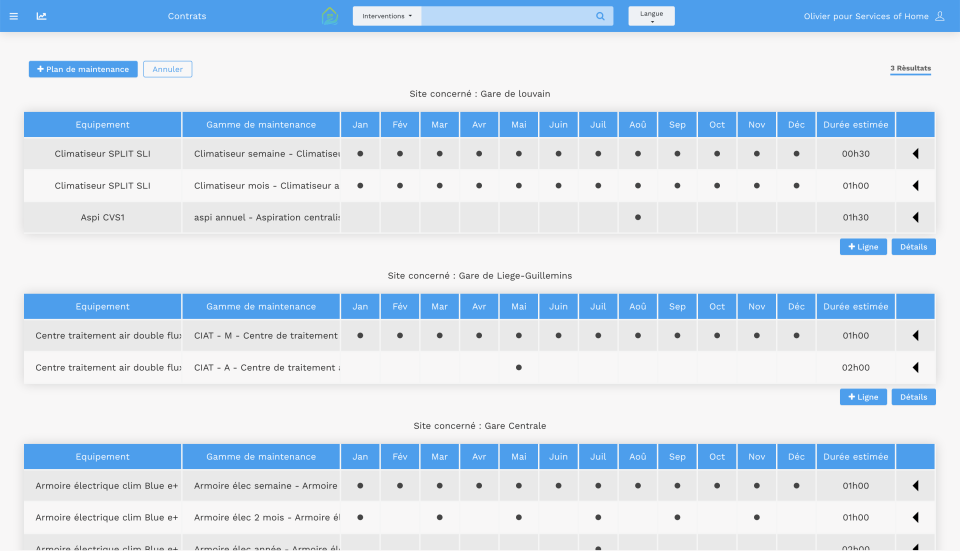 Activation, planning and allocation to internal and/or subcontracting resources
Yuman will generate, plan and assign the interventions to be carried out whenever you need, for the period of time you have selected and respecting the criteria you have defined. After validation by a manager, technicians are alerted of the new interventions they have been assigned to. Customers can also be informed of the scheduled visit dates.
Monitoring of operations
Yuman allows you to manage the smooth running of interventions. You can assess the progress in real time and remotely. Delay alerts can be set up. Nothing is forgotten! The actual time spent on these operations is calculated and compared with the expected duration time. Customers can be informed of the progress and successful completion of the intervention. You receive the reports, photos and list of used equipment instantly. Key indicators are accessible, allowing you to guarantee the smooth running of operations in real time and thus, guarantee customer satisfaction.
Maintenance monitoring indicators instantly available
Appropriate performance indicators are crucial to ensure quality maintenance. With Yuman you get them instantly, without any preparation work and from the first interventions entered by your technicians on their mobile. These KPIs (Key Performance Indicators) allow you to analyze your activity in detail and make the best decisions for your business. They can be viewed as a whole / per team / per technician / for a set period of time, with comparisons between them and trends.
Interventions (number, total time, average time),

Preventive maintenance coverage,

Preventive / curative ratio,

Time on the road,

Response time,

Resolution time limit,

C

ustomizable