How to set account preferences?
Yuman offers you a wide range of customization options, available from Settings > Preferences of the administrator account. Managers can see the options chosen, but cannot modify it.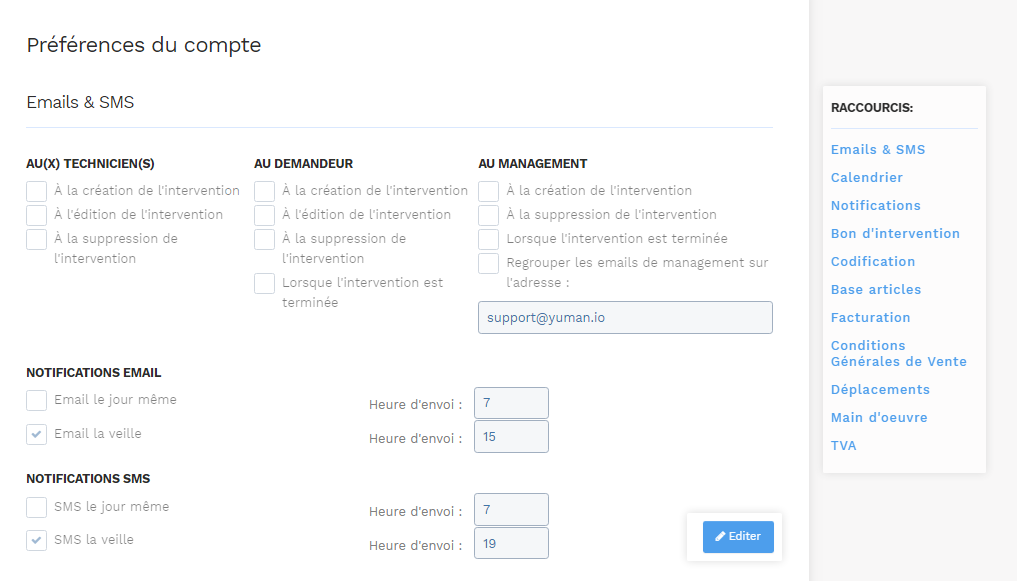 You can define the parameters concerning:


- Emails sent: frequency of sending (creation, edition, deletion or when the intervention is finished) and recipient (technician, requester and manager)


- Text messages sent to customers the day before or the day of the intervention


- Calendar: define your default view, the time range and whether or not weekends are displayed on the calendar .


- Work orders: possibility to display work hours, photos, customizable fields not completed on the PDF report as well as the customer's signature.


- Technician's mobile application: you can choose whether or not to make the Waze button appear, make the intervention report mandatory, make it possible to create a follow-up visit, as well as the visible data (customer database, sites).


- Codification: customize the codification of clients, sites, work orders, quotes, invoices, credit notes / credit notes, but also contracts and purchase orders. You can then use your current numbering system.


- Invoicing: choose if invoicing is done on site, if the site addressmust appears, add the method of calculation of travel costs, packages, VAT rates and mandatory mentions, customize the payment deadlines. You can also set the default text for emails sent.


Finally, you can also customize quotes, purchase orders, PDFs issued by Yuman.